Recently, I attended the Brand New Conference in Chicago, a "two-day event on corporate and brand identity with some of today's most active and influential practitioners from around the world."
I've been to countless design conferences, but it had been quite some time since my last. To me they had become tedious portfolio reviews offering little insight into the challenges, the big-picture, or the strategy behind design. "See this award-winning logo I designed?? And then I designed this award-winning website! I'm great, right?" Meh.
Brand New sounded… new. It did not disappoint.
I found real insight and confirmation for my feelings about where the world of branding is heading. Here are just a few of my takeaways:
1. Brands must be even more visually diverse.
Logos need to be contextually adaptable. They are no longer static symbols on the top of a website or a brochure. I saw logos that were alive, in motion, infused with color and/or incorporating a variety of marks.
One of the more revelatory descriptions of this concept came from Laura Stein of the Sid Lee Agency. When talking about identity systems she worked on for the Ontario College of Art and Design and Sonos, she said, "We try to design a strong anchor and orbiting dynamic elements."
I've been searching for a way to describe this approach, and she stated it perfectly. I love the idea of the strong anchor – an element that maintains a stable, static foundation – while the orbiting elements change and fluctuate.
A visual brand does not, however, end with a logo design. The "orbiting dynamic elements" don't have to just be part of the logo. Photography, illustration, typography, color etc. are critical elements to telling a brand's unique story.
2. Be more fearless.
This theme was either stated directly or hinted at by most of the speakers. Personally, fear may not be the right word for how I feel at times. Dismissive is probably more apt. When brainstorming, we'll come up with some pretty crazy cool ideas. But they are often dismissed as going too far, being too much, or laughing and saying "they'll never go for that." So, the idea either dies on the spot or is homogenized for presentation.
This conference reminded me to be more fearless about embracing and exploring the seemingly crazy ideas. We can't be afraid to present them to our clients. Our clients, if they see some ideas that test boundaries and push limits, may find the courage to  truly differentiate.
3. Trust your gut.
Successful brand new brand building is rightfully based on sound research and strategy. We all have a process, and the processes are very similar. We Assess; Create; and Deliver. But there is a key human element to what we do – emotion. Even research can't hide the subjectivity inherent in all design. It has to feel right. If the research, strategy, and the "feels" are good, you've most likely created a successful brand.
I also forgot how much I missed walking and exploring the cities, especially Chicago, during these conferences. Here are some photos: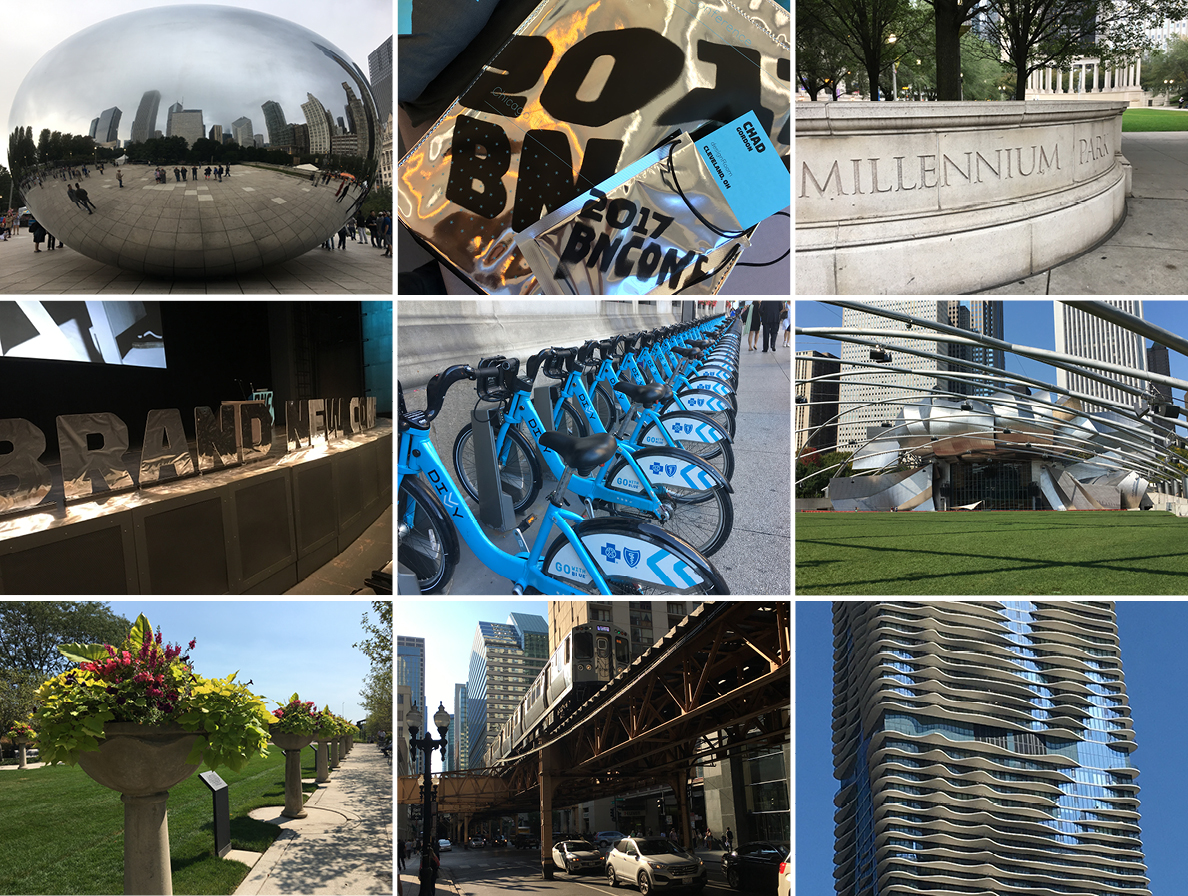 Thank you!
~ Chad
Save
Save
Save
Save
Save
At designRoom, we make it our business to find real answers and create custom healthcare brands. We believe effective healthcare branding is grounded in research, directed by insight, and driven by strategy.
We love seeing how strategic branding helps the right clients find the right organizations and receive the right care. That's been our focus for over a decade. Today designRoom is an award-winning, national branding and design firm, known for helping clients build and promote healthy, sustainable brands. And we are super proud of that.