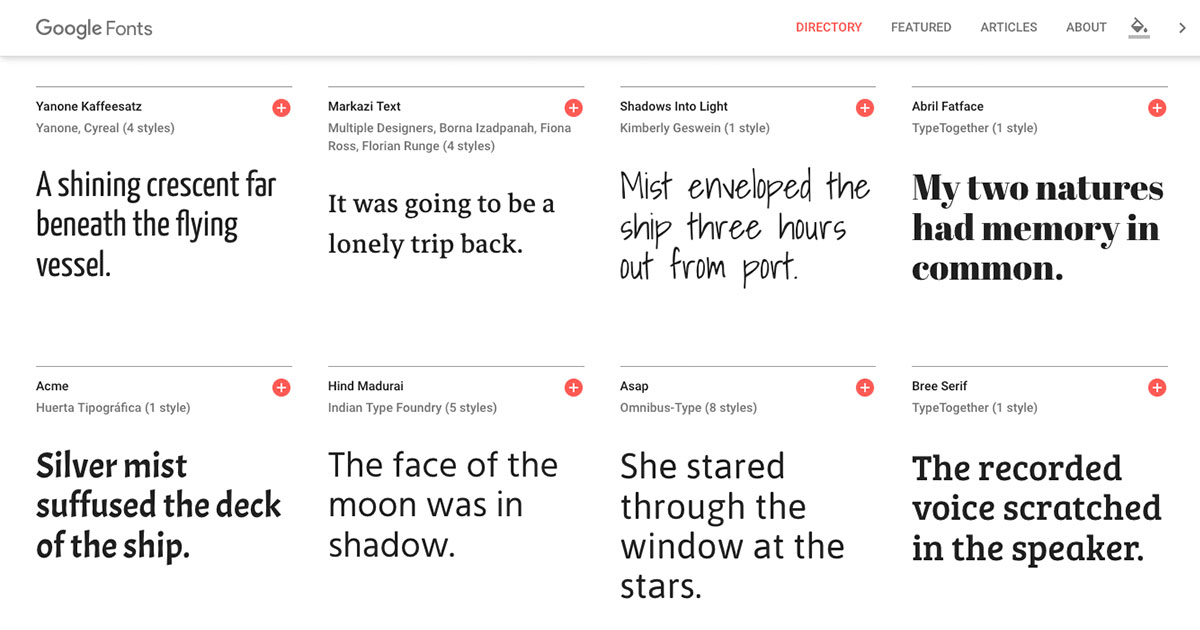 The typeface, or font, a brand uses is as important as the words it forms. In written materials, the font is as close to a "voice" as the reader will get, and voice is critical to establishing a brand's personality. When we brand a company, we often suggest a font from the Google Fonts library for standard usage. I'd like to go into a little more detail about the Google Fonts project, and how it's changing the way brand fonts work.
Before Google Fonts, if brands wanted to use fonts guaranteed to be on all computers, they were limited to system fonts. System fonts are on all computers, but for that reason, they're also not distinctive at all. You've probably seen them all a hundred times, even if you don't know their names.
Now, Google offers a wide library of almost a thousand fonts anyone can use. Over the years, the library has expanded through the work of various paid and volunteer contributors. In fact, I worked for Google Fonts before starting at designRoom, expanding the library to be more useful to users.
Google fonts are perfect for maintaining a consistent brand because they're free to download and use on any computer. They're easy to access and cheaper than maintaining correctly-licensed fonts as the company grows and changes. Every font created for Google is given a Libre License, which allows anyone to use it for any purpose. Not only are all the fonts free for use, they're also available for free web use, too. That makes it super simple for brands to have an identifiable look and feel no matter what format their audience interacts with them in.
While some brands still need fonts beyond what Google offers, the Google Font library has changed branding for the better, especially for smaller clients. Check out the library – you might find a new favorite.
At designRoom, we make it our business to find real answers and create custom healthcare brands. We believe effective healthcare branding is grounded in research, directed by insight, and driven by strategy.
We love seeing how strategic branding helps the right clients find the right organizations and receive the right care. That's been our focus for over a decade. Today designRoom is an award-winning, national branding and design firm, known for helping clients build and promote healthy, sustainable brands. And we are super proud of that.