Keeping the Lights On: Social Media Etiquette for Businesses in the Time of Coronavirus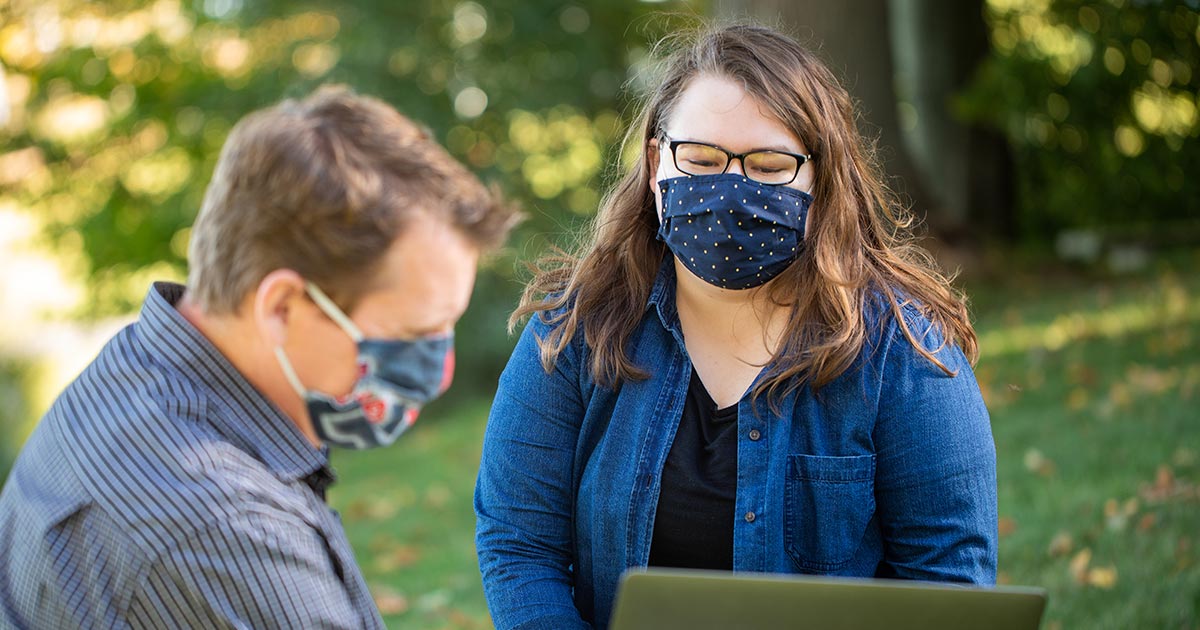 When it comes to branding, digital advertising and social media etiquette can often feel like an afterthought. A lot of businesses might budget for traditional brand work like posters and brochures, but view their website, digital advertising, and social media as optional or secondary.
Believe me, I understand why it might feel less satisfying to spend on digital! It's easier to justify spending money on something you can hold. But the data is clear, and that won't fly anymore. In 2019, studies found that 90% of Americans used the internet, and 70% of Americans used at least one social media website regularly. Most social media users log onto their accounts at least once a week. And now, more than six months into the pandemic, your digital brand is more vital than ever. Your primary way of reaching your audience is via your brand's social media. You just need to reach out to them using the right social media etiquette.
Navigating Social Media Etiquette During COVID-19
Interacting directly with your audience via social media does come with risks (see my previous blog post about the Bon Appetit debacle) but the rewards far outweigh those risks. If you engage thoughtfully, maintain proper social media etiquette, and stay on message, social media is an important tool during the pandemic. Here are a few tips for any brand posting in the current climate.
Your social media audience isn't just your followers.
While followers are an important audience for your content, they aren't the only ones. Many people don't follow brands on social media in general but will check in with a brand's social media if they're considering you for the future. Your social media can be an important step in that vetting process. If your social media etiquette is on brand, you can rest assured that anyone checking your Instagram feed or Facebook page will see relevant and accurate posts that reinforce your brand's culture and expertise.
This is especially relevant during the current pandemic. Where some people might've stopped by on impulse before, now they'll think twice. Your website and social media is an alternative. Think of them as a virtual office space, and keep them professional and ready for visitors at all times.
Think about referrals too! If someone has a great experience with your brand and links to your page in a post, you want to make sure that anyone who clicks through sees something that will reinforce that good opinion, not call it into question.
Keep in mind that your social media audience is going through the pandemic, too.
Some things just won't sound right in this current environment and that's where social media etiquette for businesses comes into play. Encouraging people to go to public places, attend indoor events, or travel should be avoided in order to comply with the CDC's recommendations. Along these lines, be mindful of your use of photography and try to use photos that reflect social distancing when possible. This might be tough with stock photos, but there has been a definite surge in recent stock offerings showing masks, distancing, and other COVID safety measures.
Beyond that, you should also be mindful of your tone. A large portion of your audience is experiencing financial hardship, loss, and fear. Be careful when writing positive posts – you don't want to seem out of touch with reality.
What's popular isn't necessarily what's on brand.
Misinformation on social media is rampant. It spreads quickly and is usually massively popular. Pages posting misinformation have millions of followers, and inaccurate posts routinely see millions of engagements. Obviously, any good brand won't be posting misinformation. But you might not be aware of how other popular types of posts are similarly bad for your brand.
For example, posts that are very broad tend to do better on social media – vague inspirational statements, common wisdom, and family-friendly pop culture references all get great engagement. But just because people interact with these posts doesn't mean they're reinforcing your brand.
All comments are not created equal. You want to attract engagement that reinforces your brand. So, your posts should be targeted at your expertise. For example, instead of a vague motivational quote style post, try to get specific. Use a local celebrity or figure, or find a quality quote that focuses on a tidbit of new information. Instead of broad statements about impact, use specific statistics about your business. Every post is an opportunity to reinforce your brand.
Your digital brand is the most visible part of your brand during the pandemic. A well-branded website can be a great source of information, but it's not usually updated daily. Social media is your way to show your audience that you're still up and running. Just do everything within your power to make sure you always use proper social media etiquette for businesses, paying special attention to the shift in attitude during the COVID pandemic.
About designRoom
Whether creating a new behavioral healthcare brand or refreshing an old one, the magic is building a healthy relationship between the client and the branding firm. At designRoom, we believe in keeping things down to earth and down to business. We are designers, writers, and project leaders building healthy brands for healthcare organizations that help people. As an award-winning, national branding and design firm, you can feel confident that our team can work alongside you to tell your story and promote your brand. Let's talk about your brand and how we can make it healthy! Call us directly at 216-241-2020.
At designRoom, we make it our business to find real answers and create custom healthcare brands. We believe effective healthcare branding is grounded in research, directed by insight, and driven by strategy.
We love seeing how strategic branding helps the right clients find the right organizations and receive the right care. That's been our focus for over a decade. Today designRoom is an award-winning, national branding and design firm, known for helping clients build and promote healthy, sustainable brands. And we are super proud of that.