Understanding your corporate colors is one of the more confusing and overlooked aspects of brand management. Here are some steps to help you along the way:
1. Yes, color is a big deal.
"Color increases brand recognition by 80%."
(Source: University of Loyola, Maryland study).
Choose your colors wisely. Color is critical to identifying your brand and differentiating it from your competitors. It can display your unique brand attributes while acting as one of the strongest mnemonic tools for generating visual recall. If color isn't managed correctly, its impact is lost and can be severely detrimental to the integrity of your brand. More on the importance and impact color can have to a brand can be found here, or more in-depth here.
2. Create, then obey, the rules.
Consistency with brand colors is critical. The only way it can be achieved is to define the rules and adhere to them. Brand Guidelines are a necessity. Having a Brand Boss in your organization (with brand minions in larger organizations) is just as important.
3. Don't get bored!
Stick with your color palette. You may get bored staring at the same colors every day, but your audience is reassured by your consistency. Adding a secondary and tertiary color palette to your guidelines will create visual depth and fend off boredom.
4. Colors aren't created equal.
You should have a basic understanding of how colors are reproduced in different formats. This will alleviate a lot of headaches in color management. Your brand guidelines must include formulas for every form of presentation. Here are some basic definitions to get you started:
Printing: PANTONE® / Spot color
Your corporate colors should be selected from the PANTONE® MATCHING SYSTEM® (PMS). PMS has been the definitive international reference for selecting, specifying, matching and controlling ink colors since 1963. Each PANTONE® color is made from a specific formula to achieve consistent, accurate results. For example, when you specify your special green to a printer, they use PANTONE® ink which is a specific pre-mixed formula for this particular shade of green. Each PMS color specified represents one ink that will be used on press. PANTONE® colors will shift based on the substrate on which they are printed, which is why PANTONE® developed different formulas for coated (C) and uncoated (U) papers.
Printing: Four-color process (CMYK)
Four-color process printing separates colors into four color values – Cyan, Magenta, Yellow and Black (CMYK). The result is a color separation that, when transferred to printing plates and sequentially printed on a printing press, reproduces the original color image. The four-color printing process is more expensive than one- or two-color printing. PANTONE colors can be used in addition to the CMYK color process. Keep in mind that printing costs rise with each additional PMS ink. For that reason, PANTONE provides CMYK formulas that closely match their colors
Digital: On-screen color (RGB)
RGB is used for on-screen images consisting of Red, Green and Blue. It is the basic color model on computers and is used for Web graphics, Powerpoint, etc. RGB is not used for print production.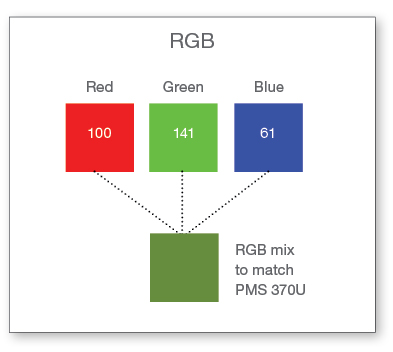 Keep in mind, colors will never truly be perfectly matched due of the nature of how they are reproduced. But having formulas for each medium is a must for getting them as close as possible, and for maintaining the strength and integrity of your brand.
– Chad
At designRoom, we make it our business to find real answers and create custom healthcare brands. We believe effective healthcare branding is grounded in research, directed by insight, and driven by strategy.
We love seeing how strategic branding helps the right clients find the right organizations and receive the right care. That's been our focus for over a decade. Today designRoom is an award-winning, national branding and design firm, known for helping clients build and promote healthy, sustainable brands. And we are super proud of that.