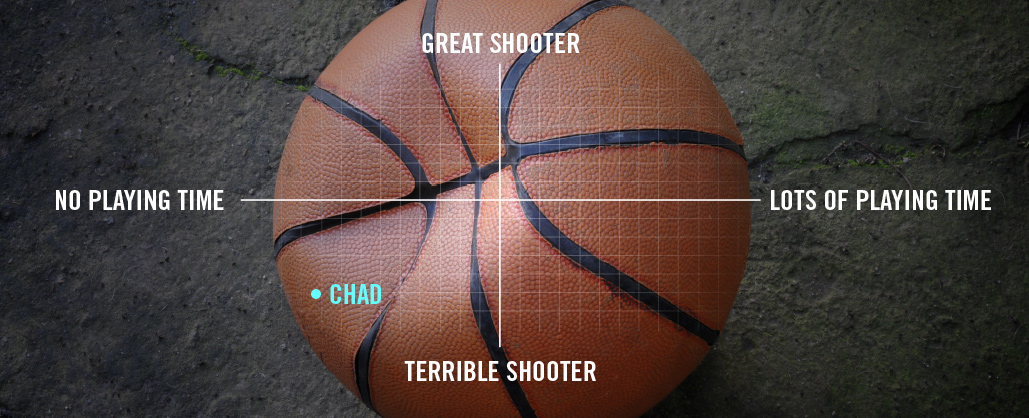 This is a true story about learning to play the right position. Much like many businesses need to do.
I was a mediocre basketball player in high school. Oh, I thought I was good. I thought I could do it all; pass, shoot, rebound, defend, block shots and on my way to being the best player on the team.
The problem was, I couldn't do it all and I never accepted that. I wanted to shoot and score! But I never worked hard enough to be a good shooter. I should have had a clue when the coach screamed at me after I pulled up at the top of the key and clanged a jump shot off the rim, "GORDON!!, YOU SHOOT 22% FROM THE FIELD AND YOU TAKE THAT SHOT!?!?! GO SIT DOWN!!"
So the coach tried me at point guard and told me not to shoot unless all four of my teammates collided and went down simultaneously with knee injuries. But I didn't want to be a point guard. I wanted to be a shooter. Clearly I was being played in the wrong position.
But the position I was wrong for was basketball. I left the team by junior year.
What's my point? Cavs season starts today!
No, it's that, in basketball, I didn't position myself to leverage my unique strengths and succeed. Much like many businesses.
I wanted to be something I didn't have the skill to be and didn't want to put the work in to become. Much like many businesses.
I thought I was great at everything. Much like many businesses.
I wouldn't embrace the things I actually excelled at in order to position myself in the minds of the coaches to get more positive attention and playing time. Much like many businesses and their customers.
I was just another player without a position. Like many businesses.
I have since learned a lot about positioning. But that basketball thing was a learning experience that correlates directly to what I do for a living now, creating unique brand identities and helping those brands to properly position themselves in their markets.
We can't all be kings, so determine what you do best in your market or for your customers. Then leverage that to stake out ONE strong position and own it. It really works.
Nothing but net. Go CAVS!
– Chad
At designRoom, we make it our business to find real answers and create custom healthcare brands. We believe effective healthcare branding is grounded in research, directed by insight, and driven by strategy.
We love seeing how strategic branding helps the right clients find the right organizations and receive the right care. That's been our focus for over a decade. Today designRoom is an award-winning, national branding and design firm, known for helping clients build and promote healthy, sustainable brands. And we are super proud of that.