What does a company's value statement really mean to the people working within the company, and how do those values impact the client? We've explored that question in detail. In our previous posts, we showed how we open eyes, the value of commitment, and what belief means to us. Now, in our final post, we're talking about what it means to be scrappy.
A value that shows how we get things done.
We are scrappy, nimble, collaborative, resourceful, and genuine.
According to Anna Richard, Graphic Designer, being scrappy is tactical: while the other values answer why, this value answers how. "It's not just that we want to do the work," she says, "but that we want to do it right, and we want to do it quick."
To Anna, another important element of this value is collaboration. Although designRoom works remotely, the team stays in constant communication with one another to help solve problems and brainstorm solutions. At designRoom, Anna says, "you never have to put your head down and get the work done by yourself."
We step up to the challenge.
Matt Farrell, Project Manager, believes that scrappiness is a value that supports the others. "Being nimble and scrappy means doing what you need to do, even if it's in a different way than you've done it before."
He gives an example: "A client approached us through a referral, but due to legal reasons, they needed to change the name and visual identity of their company pretty quickly. It came to us right before Christmas. Over the holiday break, we put a proposal together and received approval. The new name and identity were created and approved in about half the time of our normal process. We had to collaborate and be scrappy and nimble to push through the process and get the client what they needed in the time frame that they needed it."
To Shaun Culbertson, Digital Design Director, this value applies to the back-end website operations-"the stuff nobody sees" like data tracking and site analytics. It takes diligence to be able to look at data on a daily basis and not just make meaning of it, but respond to that meaning by making adjustments as necessary.
But the most important aspect of this value, he says, is being genuine, which requires honesty when giving feedback, and that honesty, when consistent, creates trust. "Hand-in-hand with delivering consistently, being genuine and sticking to our values is paramount."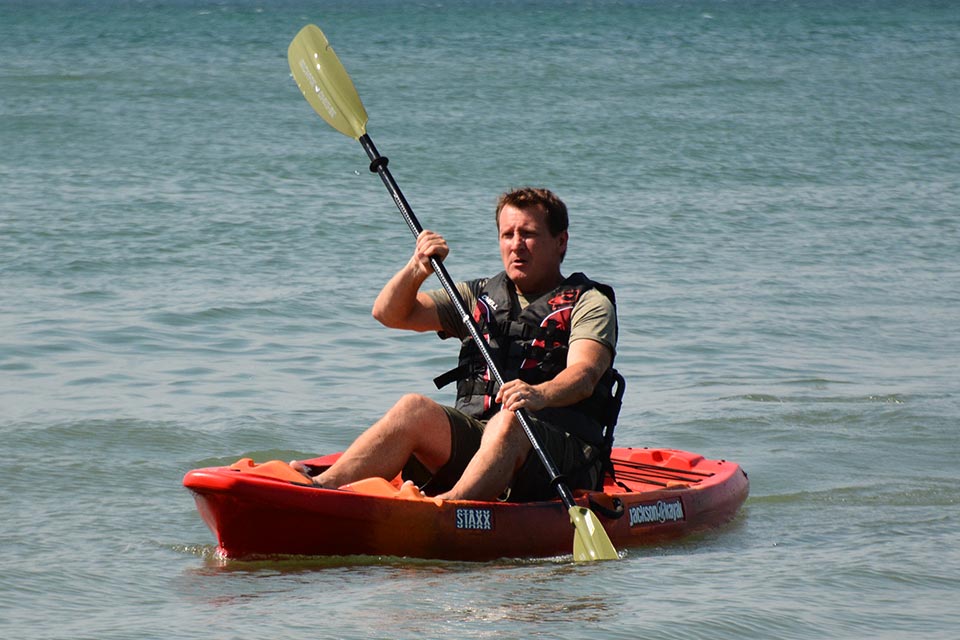 We pivot when we need to.
Scrappiness speaks in part to the size of the team, Creative Director Chad Gordon says. "I believe that pound for pound we have as much heart and drive as larger firms." Being scrappy also means thriving at being able to pivot as needed to get the job done. "While we have routines," he says, "we also need to be responsive. The processes we develop provide a foundation for the work, but don't restrict us from being able to adapt to the client's needs at a moment's notice."
To Kelly Farrell, Founder and CEO, resourcefulness is about making things happen. To be resourceful, you have to ask questions, make connections, and reach out whenever you can. It's also about being practical and developing actionable strategies while maintaining the flexibility to make changes as they're needed. By hiring talented people with unique and diverse skills, we can build a team to best fit a project. "We have a process," she says, "but because of our size, because of who we are and our history, and because we've been doing it for a while, we can really pivot when we need to."
Scrappiness, meanwhile, has to do with being nimble and embracing change. "We have to be able to move on a dime for our clients. When we get feedback, we do something with it. We listen and modify what we need to so we can keep improving."
To conclude our value series, we hope we showed not only what our values are, but what they mean to us and why they help us do our best work. To be successful, it's important to understand your company's values and for employees to align with them. Do you know your company's values?
According to SiriusDecisions, highly value-aligned companies have 36% higher growth than poorly aligned companies. Additionally, in a global research study conducted by LinkedIn, 60% of respondents "believed that misalignment…could damage financial performance." When employees can focus on a company's values and believe in those values, engagement and morale remain high. Externally, effective value alignment helps build understanding and trust between a company and their clients.
Values lay the foundation of every company. They help everyone keep their eye on the bigger picture, the greater purpose of the work being done. With that greater purpose in mind, the work becomes more fulfilling and more meaningful. A team in alignment with a company's values is a team that accomplishes their best work, and remains motivated to succeed.
Thank you for sticking with us through our four-part value series. We're glad for the chance to share our story.
At designRoom, we make it our business to find real answers and create custom healthcare brands. We believe effective healthcare branding is grounded in research, directed by insight, and driven by strategy.
We love seeing how strategic branding helps the right clients find the right organizations and receive the right care. That's been our focus for over a decade. Today designRoom is an award-winning, national branding and design firm, known for helping clients build and promote healthy, sustainable brands. And we are super proud of that.