Transportation Company Branding Success Story
Driverge works closely with automotive manufacturers to develop innovative vehicle modifications that make transporting people, cargo, and equipment easier, faster, and more efficient. They especially focus on converting vehicles for the disabled. With seven manufacturing facilities within four geographically dispersed markets, the brand had grown a strong presence and identity in its industry.
Since 1997, the brand was known as TransitWorks, but with significant pressure and potential repercussions coming from Ford, who owned the rights to the word Transit, it was time for a brand refresh. TransitWorks reached out to designRoom to rename the company and create updated company branding in a very short timeline.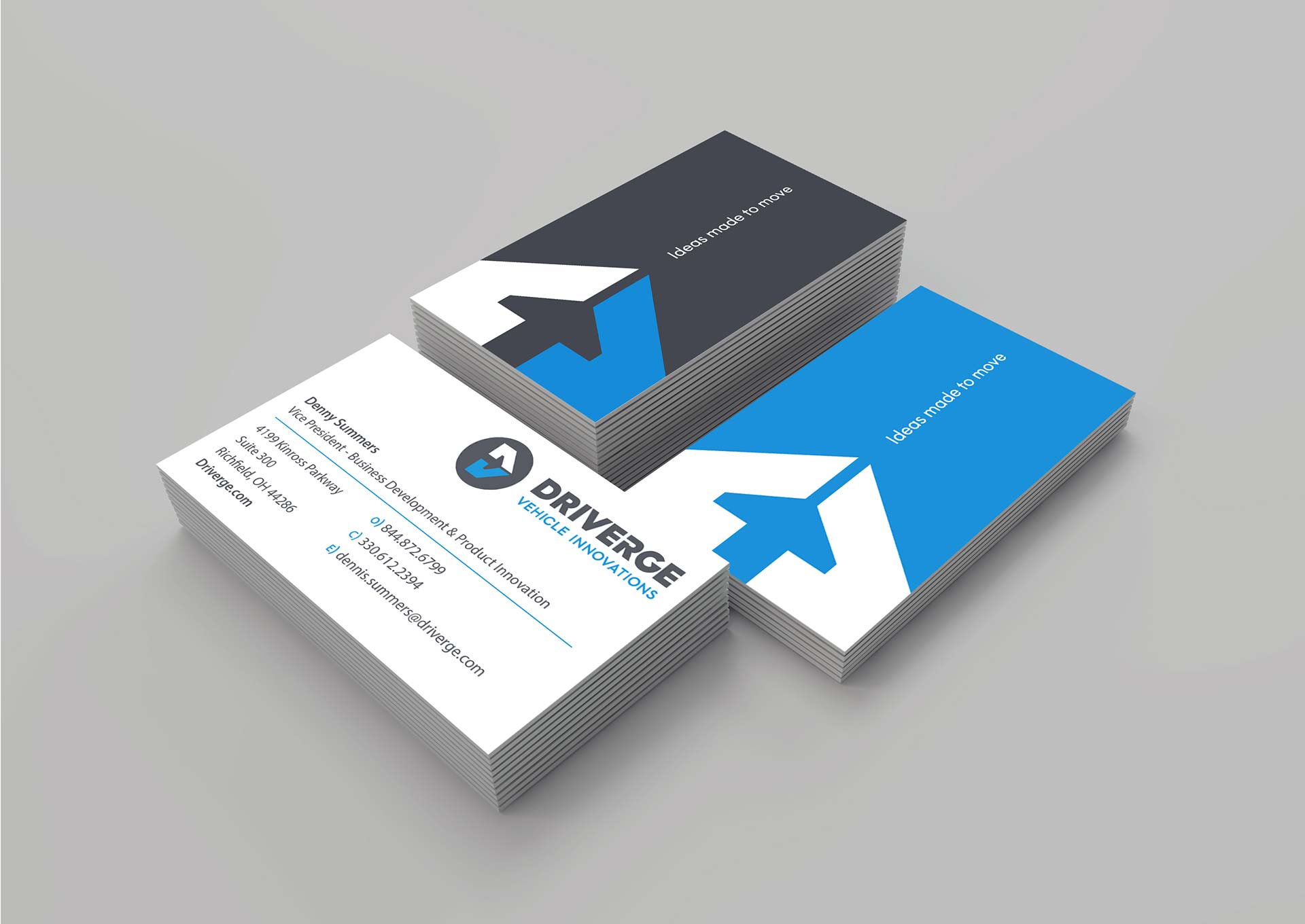 New business cards were developed once the new brand logo and style guides were approved.
Understanding that time was of the essence, our team quickly learned the ins and outs of TransitWorks' business model. We ingrained ourselves in the brand through the storytelling of salespeople and by coordinating a leadership and sales workshop. We needed to truly understand who they were to provide a thoughtful brand refresh.
We quickly realized the company didn't have any "out of the box" products, but instead worked to provide each client with custom solutions to their transportation-related problems. From there we identified core branding keywords including transformative, relationships, passion, impeccable, and benchmark. Then we were able to start crafting a better idea of who TransitWorks was, and who they should be moving forward.
Adhering to the tight timeline, we took the opportunity to create an identity that better communicated who they were and what set them apart. We renamed them Driverge, a customized word that combines drive and merge, but also encompasses 'verge,' which means edge or approach. To bring the new brand to life, we settled on the full name of 'Driverge Vehicle Innovations' to better encompass what they do for their clients and to paint a complete picture of what sets them apart.
Customization was on our mind at every step in this rebranding process. To that end, we created a flexible tagline, "Ideas Made to Move," that can be used in an adaptable way (see tagline graphic). Driverge's new tagline can be used to highlight specific product lines, core values, or services. The logo design used a negative space arrow to communicate motion and forward momentum. The brand colors remained primarily consistent with what customers already expected as a nod to their previous identity.
The Driverge brand launched in 2019 and was quickly adopted by the whole organization. By fully embracing the brand refresh, Driverge owned the narrative in a way that helped breathe new life into the company from the top down. We worked closely with the in-house design team on the rebrand and equipped them with the tools they needed to fully execute the rebranding in everything they did.