Insurance Brand Positioning Success Story
As the go-to financial and mergers and acquisitions consultant for insurance agencies, MarshBerry is the thought leader in their domain. Over the years, the company's success had sparked internal growth and expansion into new verticals; however, its advertising wasn't keeping up with the positive momentum.
In 2013, the firm appointed designRoom to help them redesign collateral and the website but within three months of working together, we moved from tactical support to strategic partner. They asked us to help them redefine their entire brand experience, aligning their look and feel to their leading position within the industry.
As we kicked off the brand discovery process, our first move was an extensive due diligence initiative. We explored every aspect of the company's DNA, including its products and services, customers, competitors and media, and interviewed internal and external stakeholders to gauge current perceptions. The interviews were the most enlightening.
After careful analysis, we determined that MarshBerry didn't need to overhaul their entire brand identity; they simply needed a refresh to enhance engagement and instill pride.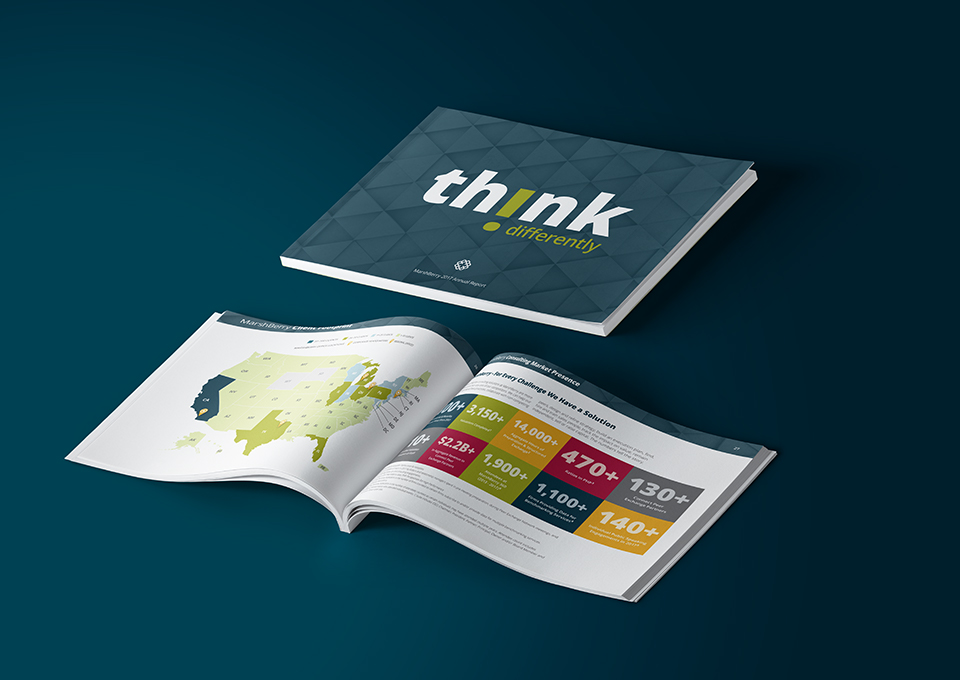 Now it was time to go to the drawing board. We based our recommendations on the cornerstones of their brand – data, relationships, and their industry-leading position.
With the MarshBerry logo being about 30 years old, it was the first thing to get a facelift. Through color, typeface, and composition, the new logo embodies growth and prosperity, representing what every one of their clients is seeking from them. It's modern, clear, and confident, a further indication of MarshBerry's position as a thought leader.
In addition to the new logo, we unearthed the firm's old tagline. Learn. Improve. Realize., because it continues to reinforce their brand promise. Why fix what isn't broken?
After helping marketing get the CEO's buy-in for the new logo, we complemented it with a fresh color palette, a cohesive messaging platform, and brand guidelines. We also developed a variety of materials for brand launch, including new business cards and sales collateral.
Ultimately, we've endowed MarshBerry's brand identity with intrinsic strengths it has had all along while augmenting it with a new visual system that can be utilized across every channel. As a result, MarshBerry felt, looked, and sounded like a consistent, state-of-the-art brand to their audience.
In addition to the re-energized brand, MarshBerry's marketing team has become the driving force for planning and change within the organization.
We're proud to continue working with MarshBerry on the organization's sub-brands, campaigns, and events. They know they can rely on us as their brand partner for anything they need.
"Every client said they stayed with us and will continue to stay with us, because of two things – the relationships with our team and the data we provide. This led to a major epiphany. With so much equity in the current brand, we didn't necessarily need a new one."
- Lauren Byers, Vice President of Marketing, MarshBerry