CHALLENGE
Arthritis, fasciitis, tendonitis – just saying the words is painful enough, but dealing with any one of these recurring problems can be excruciating. Seeing how frustrated his patients were, our orthopedic surgeon client, Dr. Reuben Gobezie, was poised to make a difference. With a pioneering spirit, he founded a new medical practice that makes advanced, non-surgical treatments accessible to patients plagued with chronic injuries. Specifically, his techniques leverage a patient's own stem cells and platelets to stimulate tissue repair.
The concept was innovative, but it would raise a few skeptical eyebrows. It certainly wouldn't appeal to everyone, at least initially. Thus, he needed a brand identity that would hone the treatments' natural science and healing powers to appeal to open-minded patients who are desperate to maintain their active lifestyles.
INSIGHT
As we brainstormed ideas for the brand, we put biology at the center of our thinking. While the treatments seem foreign and complex, they're really all about encouraging our bodies to help our own bodies. In other words, they're about our cells becoming naturally inspired to restore or regenerate chronically painful joints and muscles. So, we built a brand strategy rooted in this positive theme of "regeneration," calling the practice Regen Orthopedics.
Solution
Our simple, straightforward name demanded an equally direct tagline, "Helping Your Body to Heal Itself." It says exactly what Dr. Gobezie's treatments do.
When it came to the logo, we lowercased "Regen Orthopedics" to reinforce the approachability of the small practice. The multi-dotted circle next to the name spins us into the micro-world of plasma, platelets, and stem cells. Not only does it symbolize using patients' own cells for healing, but it also speaks to the cyclical nature of life.
In regards to color, the calming blue and purple palette was used to eliminate any fear or tension toward the brand.
Beyond the name and logo, we've expressed the Regen Orthopedics brand at every touchpoint, including their print ads, email marketing, website, and search engine optimization. Understanding the audience's need to be informed, we recommended an education-rich website filled with FAQs, testimonials, and videos to highlight the benefits of the treatment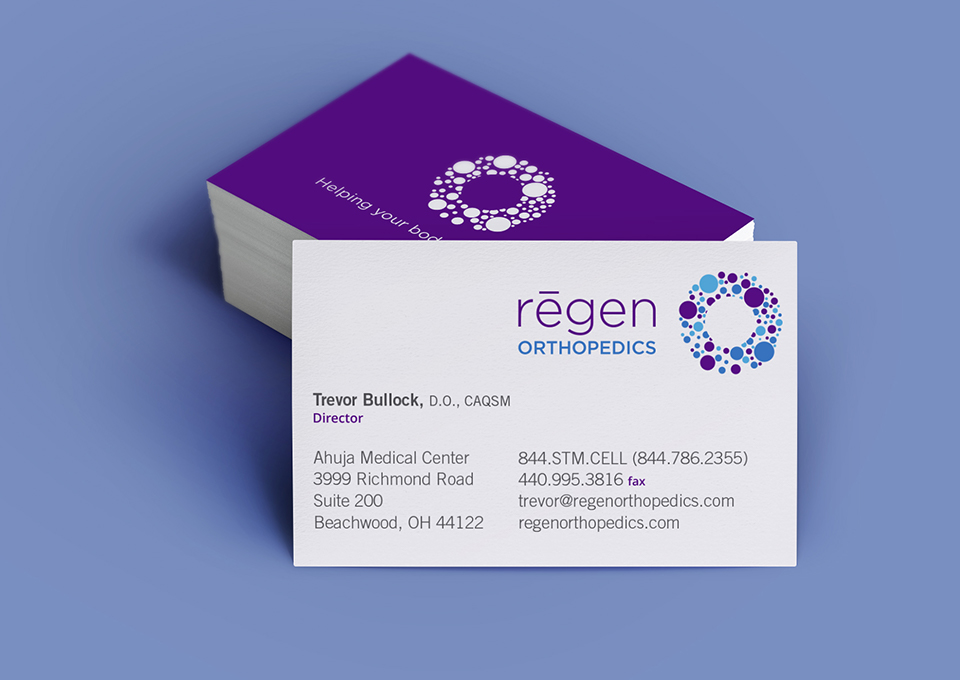 Impact
Using simple, yet impactful, descriptors and imagery, we breathed life into Regen Orthopedics, which opened its doors in 2014. We created a compelling brand identity that unites internal leadership around a common language and intrigues the intended audience, making the unknown treatments more engaging and desirable.