Certainly, 2021 has been a challenge, as well as an adventure. And this year, rather than subjecting you to the agency year in review, we decided to turn the tables and offer something a bit more fun and personal. We asked our team members to offer a few of their own reflections – in the form of pictorial highlights and memories. Take an inside look!
A photographic year in review has been a cathartic exercise. Understand that my 2021 Photo Library includes 19,000+ photos. First, I sorted them down to 130. Then, I distilled them down to 16 and then Chad guided me through the final 8. And I think this blog topic was my idea. Reflective, indeed!
Family Photo/Post-Draft Lake Erie Sunset
First professional family photo since 2014, it was time and we have a new family member. Me and Matt are in the back and in the front row are Nolan (oldest son), Savanna (daughter in law), Celeste (daughter) and Luke (son). This photo was taken Friday afternoon, April 30th during the 2021 NFL draft. Sunset from NFL Draft Day May 1st 2021. Luke was the 1st pick in the 5th round to the Jacksonville Jaguars.
Special Birthday Memory
This was a big birthday trip for me this year. The kids gave me three options to pick from and they would provide some assistance to visit. Three options: 1. Acadia, Maine, 2. Bryce Canyon, Utah or 3. Yellowstone, Wyoming. Matt and me at Yellowstone Grand Canyon at sunrise, this was one of my favorite places we stopped. We used a local's guide and followed so many of Teddy's suggestions. Absolutely made our trip extra special. https://exploreyellowstonelikealocal.com/
Wedding
Savannah and Nolan Wedding – June 26, 2021
I love this photo, Nolan and Luke getting ready on the wedding day, a great way to start the day. Hands down one of the best days all summer. My mom made the wedding ceremony. Happy that we were able to capture this moment.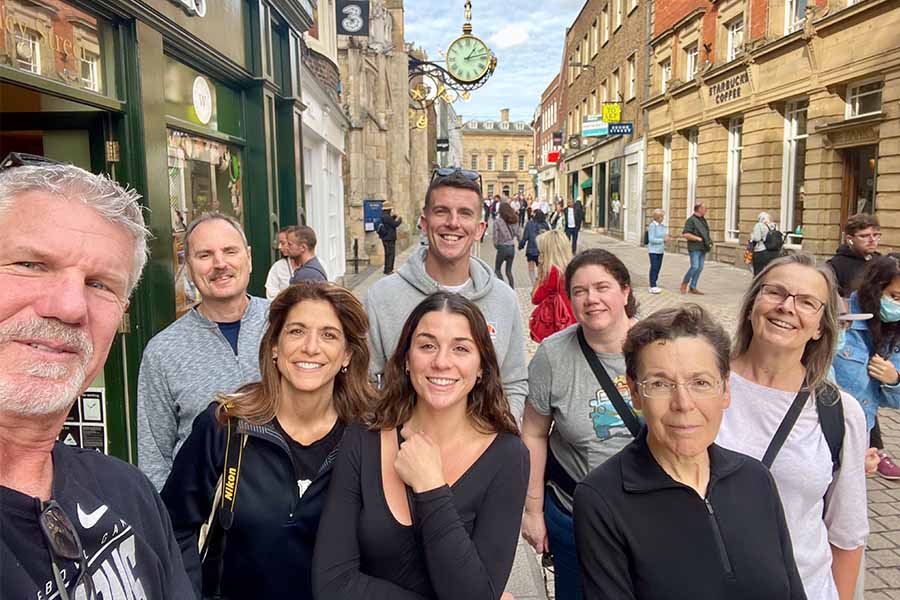 England/London/Declan McGiven/Jaguars First Win!
I had never been to England before and I had the pleasure of traveling to see our former employee and stay with his family in his hometown for several days. They opened their house up to us. Amazing. Matt driving on the wrong side of the road on the wrong side of the car was a bit nervy. Got to see some of the countryside, London and then a win at Tottenham Hotspur Stadium.
We sold the house we raised all our kids in – after 22 years – and moved across the street to the house I grew up in. Never saw that coming. Thank you family for motivating me and your dad to get that done.
Our daughter, Celeste, is a travel nurse which provides for some nice destinations for the family. In early April we all spent a long weekend together in Albuquerque.
The 2021 NFL Draft was an exciting time. Celeste, Kelly, Luke and Nolan hanging at the house pre-draft. Luke was selected by the Jaguars with the 1st pick of the 5th round. Our immediate family was joined by grandparents, aunts and uncles, family friends, some of Luke's friends from high school and a couple of his teammates from OSU. And it was a beautiful night for a post-draft bonfire.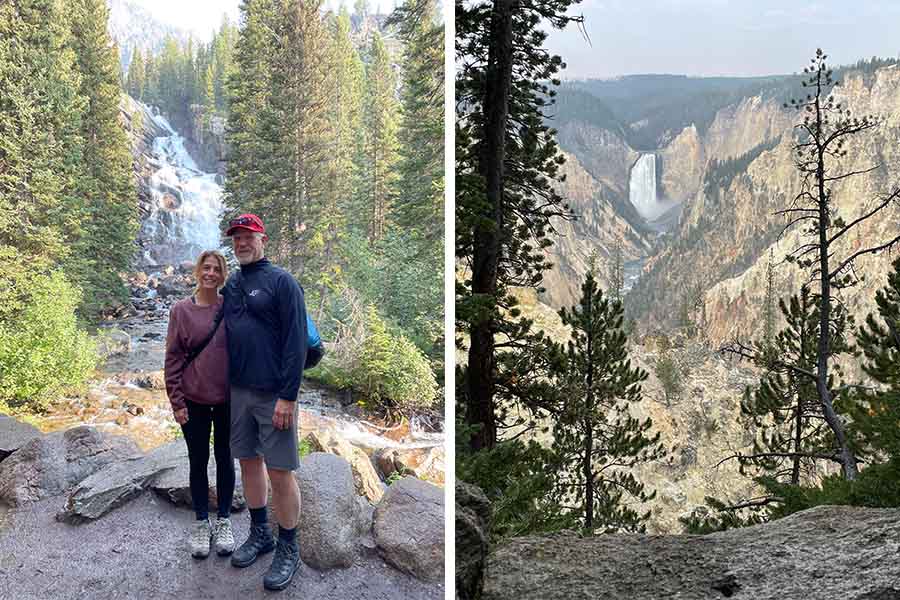 Kelly and I had a great time traveling out West. A cousin's wedding in Lake Tahoe, national parks, Mt. Rushmore and Crazy Horse. Here we are in the Grand Tetons. Also a picture of the Lower Falls in the Grand Canyon of the Yellowstone. A painting of this view in 1871 by Thomas Moran is what inspired Yellowstone to be named the first National Park in 1872.
Big Day – On June 26th, after being delayed a year due to the pandemic, our oldest son Nolan and his wife Savannah finally had their wedding day. A very happy and memorable weekend!
2021 was our first full year with Dexter. The little guy has kept me sane while working from home (If you count talking to a dog like a human as being sane).
Celebrated our 2nd wedding anniversary in the place we got married in Sedona, AZ. We ate at the same restaurant as the day we got married, Mariposa. The meal and the company were just as amazing as the first time.
Cross-country road trip with my amazing son Oliver in September. Moved him to Portland, OR with many stops along the way, like this one at Yellowstone (it's ok to laugh at my crazy hair).
(a) After not really shooting at all in 2020, it was such a relief to go out "treasure" hunting in 2021. This is at Watson Lake in Prescott, Arizona. Such a unique, beautiful spot.
(b) Sensing a theme here with my 2021 image highlights – seeking and finding peace and harmony. This is our everyday backyard oasis. Sunsets can be incredible…and bonus, it's right outside my office window.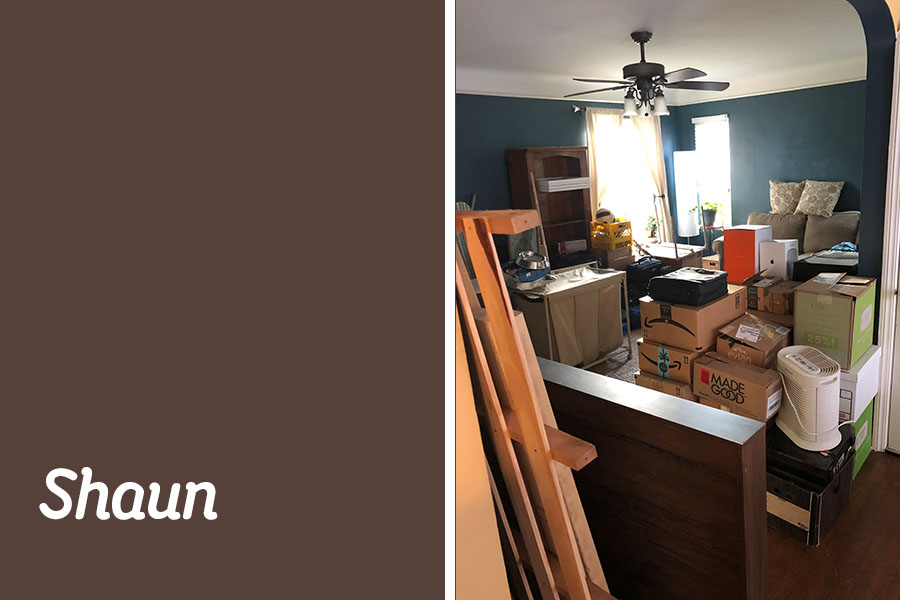 I sold the home I lived in for 8 years and moved back closer to family and friends. Not working downtown anymore allowed me to relocate. Selling my home was a stressful experience and I lived out of boxes for a month. I did learn a lot along the way and it has been very rewarding in the end. If anyone needs advice about selling a home give me a call, lol.
New pad above. Open floor layout with the kitchen and living room combined.
Luckily, I discovered an aggressive mast cell tumor inside my dog's gum before it became a serious problem. I acted quickly. Talked to a couple of veterinarians. One directed me to a soft-tissue surgeon to perform the procedure. Having it removed will give my dog a chance to live a longer, happier life. I hope to never put her through that again. It looked like she got into a bar fight and lost.
My favorite time of the day in the summer is first light. It's quiet and peaceful. So I spent the majority of the summer getting up early and shooting Polaroid captures of Northeast Ohio.
This was a year of pets! While I haven't caved and gotten a pandemic puppy of my own, my best friend did. Beau is more than a hundred pounds and very sweet. Always a mood-improver.
This year was all about trying to find safe ways to see my loved ones and not turn into a grizzled hermit. One great experience was the Asian Lantern Festival at the Cleveland Zoo! Tons of custom lanterns, a gorgeous night and great snacks.
Another great experience was the Interactive Van Gogh exhibit designRoom attended together. I loved the ways they brought the paintings to life. Definitely inspiring!
It was a year of celebrating and moving! My oldest daughter, Savannah, graduated from law school, passed the bar exam and moved to Baltimore.
This summer, I was thrilled to have the chance to travel out West with my sister. We drove Route 66 across Albuquerque to Sedona – with lots of epic hiking across the countryside.
(a) My youngest daughter, Jana, graduated from Ursuline College and moved to Los Angeles to pursue her doctoral studies in Psychology.
(b) I adopted a new family member on Halloween! This is Marley – a high-energy, sweet-natured mixed breed. The rescue told me they think he's a mix of German Shepherd and Husky. I say he's definitely a mix of Beagle and Cattle Dog. He has a penchant for eating dirty laundry. Good thing he's so cute!
From our designRoom family to yours, here's to a New Year filled with fun-filled adventures, meaningful personal and professional milestones and a wealth of heart-warming memories.
At designRoom, we make it our business to find real answers and create custom healthcare brands. We believe effective healthcare branding is grounded in research, directed by insight, and driven by strategy.
We love seeing how strategic branding helps the right clients find the right organizations and receive the right care. That's been our focus for over a decade. Today designRoom is an award-winning, national branding and design firm, known for helping clients build and promote healthy, sustainable brands. And we are super proud of that.