Image reproduction is pretty important to our work here at dRC.
We work with images every day—creating, manipulating, color correcting, scaling, placing, printing, zipping and emailing. We receive images from clients almost daily — logos, illustrations and photographs.
Image resolution is critical to successful reproduction.
If the image you want on your billboard is a small enough file size to send through an email, the chances are it isn't high enough resolution for printing. That means it will look pixelated or blurry when reproduced. You also can't take a logo file from your website and expect it to look clean and crisp enlarged on your trade show booth or your brochure.
Here are some basic tips and definitions for image resolution:
The Two Types of Digital Images: Vector vs. Raster
Vector image are made of solid shapes drawn as points, curves and lines (typically called paths) on the computer. Logos, typefaces and line art illustrations are built as vector files. Vector files contain less detail than raster images and file sizes are typically much smaller. Vector files are infinitely scalable without quality loss, as long as the correct file format is being scaled. So, if you send me the original Adobe Illustrator version of your logo (or an .eps, or sometimes a PDF) I can scale that as large as your house without losing any detail. The confusing thing is that vector files can be saved as raster images, which are NOT infinitely scalable. That logo that is on your website has been saved as a raster image, which is why I can't take that same file and enlarge it for your trade show booth.
If someone is designing your logo in Photoshop, they aren't a professional designer and you will have nightmares trying to reproduce that logo in larger sizes.
Vector Graphic: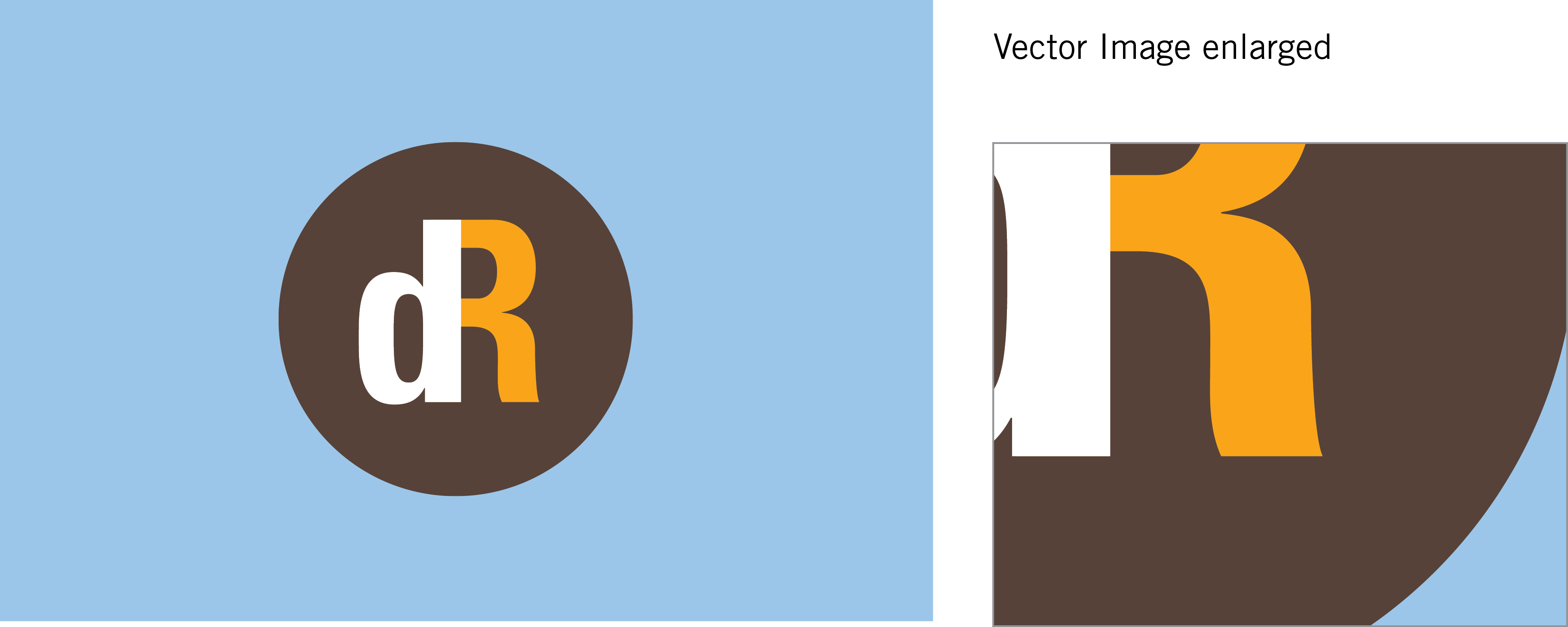 Raster (or bitmap) images are made of thousands (or millions) of individual pixels. If you enlarge an image enough on your screen, you can see the individual pixels. Photographs are raster images and are typically edited in Photoshop. Raster images are not infinitely scalable. How large you want to reproduce an image (in print or on screen) without losing detail is limited to the resolution in which the image was originally captured or saved.
Raster Image:
Resolution
The typical rule of thumb is that for an image to be clearly printed on a brochure or flier you need the resolution of that image to be 300dpi (dots per inch) at 100% scale at the size it is being reproduced. Trade show vendors and billboard companies have varying different requirements for image resolution depending on their printing process (300dpi at 50% scale, 100dpi at 100% scale, etc). We follow their specifications and size accordingly.
Web images are typically set at 72ppi (pixels per inch) at 100% scale at the size it is being reproduced. There is more technical detail than that as seen here, but 72ppi is a good rule of thumb, and easier to remember.
In summary, if you are going to send me an image use this as a guide:
Logo – Vector .ai, .eps or .pdf
Icon – Vector .ai, .eps or .pdf
Line art Illustration – Vector .ai, .eps or .pdf
Raster Illustration or Photograph for web – 72ppi at 100% scale it will be reproduced
Raster Illustration pr Photograph for print – 300dpi at 100% scale it will be reproduced
These are general guidelines and there is leeway in resolution. If you're ever in doubt, just ask me.
– Chad
At designRoom, we make it our business to find real answers and create custom healthcare brands. We believe effective healthcare branding is grounded in research, directed by insight, and driven by strategy.
We love seeing how strategic branding helps the right clients find the right organizations and receive the right care. That's been our focus for over a decade. Today designRoom is an award-winning, national branding and design firm, known for helping clients build and promote healthy, sustainable brands. And we are super proud of that.