What does a company's value statement really mean to the people working within the company, and how do those values impact the client? In our four-part value series, we'll be talking about our values and how they're reflected in the work we do. In our last post, we showed how we open eyes. Now, in part two, we're talking about commitment.
A value that defines us.
We are committed to doing the right thing by showing up, asking tough questions, setting clear expectations, communicating with candor, and pushing beyond the ask.
Here's what 'being committed' means to us.
We're always improving.
According to Anna Richard, Graphic Designer, being committed is a value that shows up in the everyday. "Opening eyes has a lot of big moments, but being committed has a lot of smaller moments. It's about doing the right thing, even if it wasn't the planned thing."
Adaptability is the key to commitment. No matter how well something is working, it can always be improved upon. For Anna, the pandemic was a big factor in shaping this belief—it required a major change in workflow to figure out how to serve the best interests of our clients.
Anna also likes to over-deliver—not only get the job exactly right, but give even more than that, stepping up to go above and beyond the ask. "Commitment is baked into designRoom company culture," she says. "I think it's vital to what we do here."
Loyalty is a priority.
"Loyalty and commitment go hand in hand," says Shaun Culbertson, Digital Design Director. "When I'm being committed, I'm being loyal." He claims loyalty is a lost art: "In today's world, we're all moving at a fast pace, so commitment is an attribute that's sometimes overlooked, but I think it should be valued."
To Shaun, commitment is also about keeping an eye on the big picture. An example of this is noticing when a client's website is running slow, which might have negative effects for those navigating the site. "The client doesn't always have their eyes on the website as much as I do," Shaun says. "As part of their team, I feel committed in the sense that I'm watching what they're not and communicating what I see."
We're driven to help.
To Creative Director Chad Gordon, being committed is about two things: trust and caring. "The client trusts our expertise, and we trust their mission. We care about who we're working for and what we're doing."
Commitment is in the little things, too. "Paying attention to every detail is also key to commitment. It really shows through to the end result. You're not just working to get the job done, you're working to get it done right."
We adapt to any situation.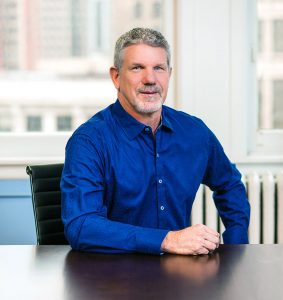 "To me, commitment is seeing the job through to the finish no matter what happens or what comes up," says Project Manager Matt Farrell. "Occasionally, things don't go as planned and we have to deviate from the initial job plan. We have to be flexible to provide the best solution for the client."
That flexibility extends to the whole team. "We're a small company, so everybody has to wear multiple hats. Maybe something comes up that's not in anyone's specific job description, but someone always jumps in to help."
We go deep.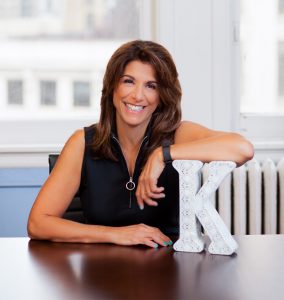 CEO & Founder Kelly Farrell talks specifics. "For Allendale, a 125-year-old organization, we really needed to know what made them different. We got that from the stories that the staff told us during the assessment. We pulled keywords out and built the brand around their stories."
"Our process digs deep so that we can assess what's really going on," Kelly says. "We're making things, not pulling anything off the shelf. We're coming up with the thing that's going to help a client grow, stand out, appear different. We do the research, and we build the brand around their inside culture."
To Kelly, commitment starts with her staff—a dedicated team attracts the right clients and forms a collaboration where everyone is committed to doing their best work. It starts at the top.
Be on the lookout for part three of our series, where we talk about how we believe in the people we work with and for.
At designRoom, we make it our business to find real answers and create custom healthcare brands. We believe effective healthcare branding is grounded in research, directed by insight, and driven by strategy.
We love seeing how strategic branding helps the right clients find the right organizations and receive the right care. That's been our focus for over a decade. Today designRoom is an award-winning, national branding and design firm, known for helping clients build and promote healthy, sustainable brands. And we are super proud of that.